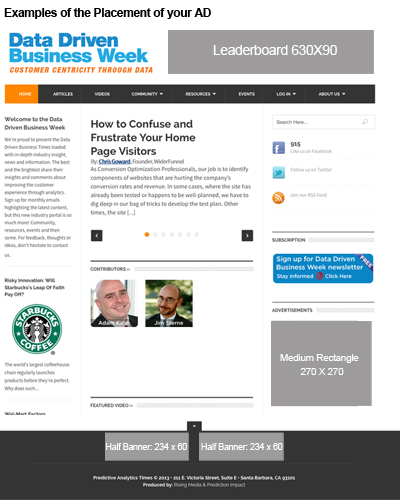 Looking to reach analytics executives and practitioners? Data Driven Business subscribers are actively involved in the recommendation and purchase of data analytic tools, products and services. To learn more about integrated marketing and advertising programs, to request our current rates, or for custom advertising – contact Paul Gillis.


Advertising Opportunities:
Paul Gillis, CRO, Sales
pgillis [at] risingmedia [dot] com
Telephone: 508-644-0641
AD Sizes
The following ad sizes are supported on our website. Please contact us directly for custom ad sizes or custom placements.
Leaderboard: 630 x 90 pixels
Banner: 468 x 60 pixels
Half Banner: 234 x 60 pixels
Medium Rectangle: 300 x 250 pixels
Small Rectangle: 130 x 130 pixels